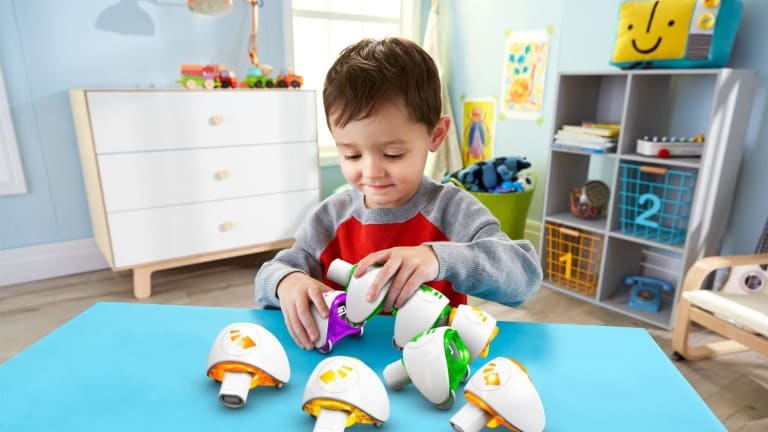 It is never too early to teach your child STEM topics. Not only will these skills help them better the world, but they will also develop your child's cognitive and fine motor skills.
There are many STEM toys available on the market, but it can be difficult to find the right one that targets the appropriate developmental need.
Here are three STEM toys that top our list of the best for engaging kids in science, technology, engineering, and math.
Dinosaur building blocks
The Fronor dinosaur building blocks help kids develop STEM skills
With this set, you get a variety of wooden blocks that are shaped like dinosaurs. These come in different sizes, colors, and shapes.
The goal is to balance the dinosaurs on the wobbly wooden base.
This toy helps to develop motor skills and fosters hand-eye coordination, as your child needs to be very precise. This toy also teaches spatial awareness, problem-solving, and logical thinking when balancing the dinosaurs on top of each other. Furthermore, it is enjoyable for the child and teaches color differentiation by using different colors.
All of the materials used to make Zabana Pride are environmentally friendly and nontoxic. This toy is budget-friendly and will help a 3-year-old child to develop. You have the option to take it with you when traveling or store it away when not in use.
Kids STEM coding kit
The Harvard Girls Can Code Kit makes it easier and more fun to learn programming.
This high tech STEM toy teaches children the basics of computer coding through an application on their tablet.
The toy comes with blocks that allow the character to move in specific directions depending on the command. For example, some of the commands could be "attack", "move", and "pick up". For example, the objective is to have the character complete a specific goal.
This toy has various built in games that can be played and also allows users to create their own melodies, beats, and harmonies using command blocks. Kids also can solve puzzles or get through a maze.
You can have your child solve coding puzzles manually, but they can also play online and collaborate with other children to get the same effect.
Computer coding and STEM are some of the many benefits of this toy. It helps teach problem solving, critical thinking, listening, observation, creativity, teamwork, and more. It will get your child interested in computer coding and other STEM concepts.
It is rated for ages 5 and up and you will need an iPad to use it. It might not be the cheapest STEM toy around, but it does have a lot of educational value.
Take Apart Dinosaur STEM Toy
Playing with a take apart dinosaur STEM is a wonderful activity for kids.This toy is designed to introduce STEM principles to children over a number of years and features both old-fashioned learning and new-age engineering lessons.
Here is the concept. You can build and take apart your own dinosaurs. There are three different dinosaurs to play with – a green triceratops (like the friendly one in Jurassic Park), a brown velociraptor, and a blue Tyrannosaurus Rex.
The dinosaur toy set offers dinosaur construction, which kids love. You can find instructions on YouTube and an instructional video. The screws for the dinosaurs are small clips and do not require any tools. Plus, it comes with a battery-powered drill to assemble or disassemble the pieces that operate on two AAA batteries.
With dinosaurs made from high-quality plastic, your kids can assemble the toys themselves and play with the dinosaurs.
They can either be played with as they are or painted, giving them a more creative look.
Overall, this is a STEM toy for children and the best part is that it will keep them entertained all at the same time as teaching them about critical skills.  Kids may also develop fine motor skills as they play with it and learn to recognize colors in order to develop spatial awareness. The toy also helps develop logical and critical thinking skills.
Conclusion
STEM toys are great for kids who are interested in science, technology, engineering, or mathematics. Kids who frequently ask how things work or enjoy taking them apart would especially benefit from the use of a STEM toy.
If you have kids, it's important to understand that today's STEM toys can be as affordable as typical toys. They are certainly much more affordable than video games. You should do your research and compare prices before making a purchase.