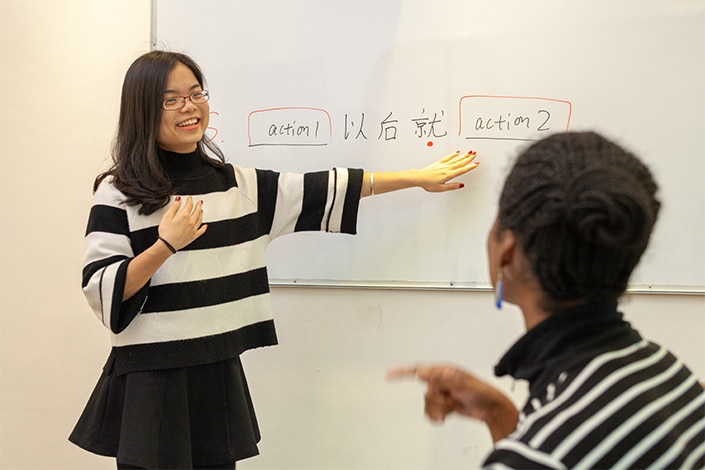 Chinese language classes are taught in many ways. Some of them use traditional teaching methods, while others use a more modern teaching method that uses lectures and online materials. It is important to find the best way to learn so that  can learn effectively and efficiently.
How to Achieve the Best Learning Outcomes for Your Chinese Classes & Course Type?
There are many ways to learn a language. The best way for you to decide is what will work best for you and your learning style.
Different course types can have different learning outcomes, so it's important to know which one you're going for before starting any course.
 Intensive courses -These courses are often delivered in a short period of time, but they have a high retention rate and are typically more expensive than other courses. They frequently incorporate cultural activities as well as information in the target language.
Conversational Courses – These courses offer an intermediate level of instruction, but they can be much more affordable than intensive courses. They typically use audio or visual recordings of native speakers speaking the target language, while also incorporating some cultural activities as well.
General Courses – These courses offer an introductory level of instruction. They may be more affordable than conversational courses, but they typically do not include cultural activities.
Private Classes
Private classes are often used as an alternative for language learning. Private classes are conducted in a more relaxed and less formal setting allowing students to have a more personalized experience in a language, as well as a more comfortable environment. Trainers often select the course content and work with students on an individual basis. This can be particularly beneficial for courses such as intensive language courses which can otherwise be hard to combine with other commitments.
 Group classes type
Group based classes are a popular form of learning Chinese language.  This type of class is mostly intended for beginners who want to learn new skills. Group classes provide a structured environment with teachers, which helps students to be more motivated and learn faster. This type of language learning includes a lot of linguistic, cultural and methodological aspects. For example, all students in the same class can be divided into groups according to their level and they are given different amounts of materials to study. This way, teachers can adjust the difficulty level for each group according to their needs and teach them how to interact with each other so that they can learn effectively. A large amount of teaching materials are used in this type of class.
Some of the benefits of these classes include:
It is cheaper than individual lessons or private tutors
You can learn at your own pace and schedule
You may practise speaking in real time with other students
You will be able to share your knowledge with others if you want to do so
Online classes type
Online Chinese classes are popular among adults who want to learn the language. online classes are becoming more popular because they provide a convenient and cost-effective way to learn the language. Some of these online classes provide interactive and personalized learning. It is a convenient way to learn the language while you are on the go and it is also flexible enough for individuals who have busy schedules.
What are the best features of private, group, and online classes?
Private classes are the best option for students who want to learn from a teacher with whom they have a personal connection.
Group classes are good for those who want to learn from other people and build relationships with their classmates.
Online classes are the best option for those who can't attend a class in person, but still want to get the same benefits as private and group classes.
Students who want to develop their Chinese language skills through group interaction and interaction with a trainer should enrol in group sessions. Private lessons are great for students who want to work with an instructor to improve their Chinese language skills in a more personalised setting. Hybrid lessons are an option if you want to learn Chinese in a group setting while also having the freedom to practise on your own time.
In order to determine which type of Singapore Chinese class is best for you, it's important that you take into account your individual needs as well as your preferred learning style.