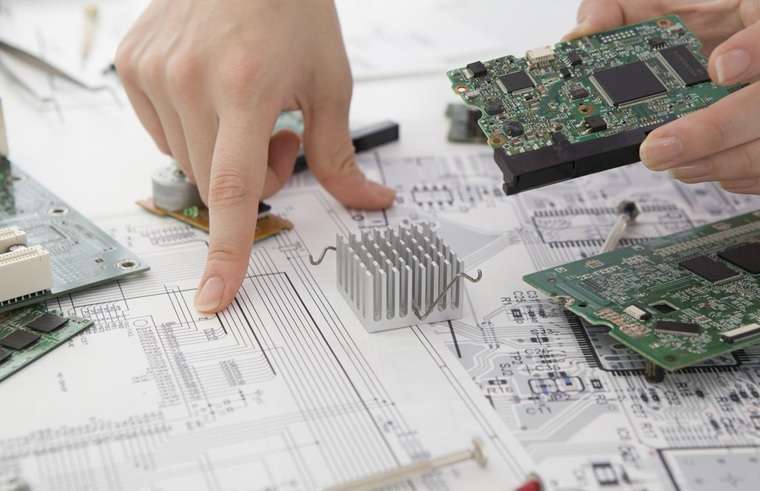 Electricity is taken for granted by most people in the developed world, but it is hard to imagine how we would live our lives without it. The same is true of the software and gadgets it gives us access to, along with the ease with which it is delivered to our homes.
Nevertheless, the production of cutting-edge devices and digital innovations takes a high level of skill, as does ensuring electricity is distributed on demand. To get this work done and maintain an excellent experience for general consumers and industry, we need thousands of skilled graduates in this field every year.
What is electrical computer engineering?
Working at the leading edge of advanced technologies, both computer engineers and electrical engineers are innovators. In addition to generating new ideas themselves, they will research and test the ideas created by their colleagues. They will also work with businesses and inventors to plan and develop fresh new technologies that could become household products or be used in manufacturing or healthcare.
In the field of medicine, it is not an exaggeration to say that ECEs have saved the lives of countless patients. They have done this by developing key medical technologies, including monitoring devices, surgical lasers and alert systems.
Furthermore, electrical engineers have played a major role in keeping the general population healthy. Their achievements include producing computer automation technologies for manufacturing, safety suites for cars and circuit protection devices. Additionally, most of us are committed to living a greener lifestyle, and ECE graduates will ensure we succeed by creating new methods of harnessing renewables.
How a graduate degree can change your life and others around you
In the field of electrical engineering, you are involved in using the full potential of electricity. Graduates focus on finding more effective or efficient ways of transmitting power and developing the systems that control or deliver it. Whichever branch of the discipline you specialize in, you will concentrate on producing applications that help people in the real world, whether it's at home, at work or in other settings.
Even if you are already a professional and well established in the role of your choice, a master's qualification can power your career forward. Taking time out to study is a major commitment for anyone who is employed in a full-time job, but there is a way you can enjoy the best of both worlds. The masters in ece online available at Kettering University Online is an excellent option for people who are currently working but want to complete a post-graduate qualification. You can finish the course in 24 months and feel confident moving into any number of competitive modern industries when you graduate.
What to expect in an electrical computer engineering course
Each university and college will deliver their courses in a slightly different way, so your exact experience will depend on where you enroll. As a general overview, here are some of the things you might learn and accomplish as a student.
An excellent foundation
Math and physics form the building blocks of any electrical engineering degree or master's qualification, so you are likely to spend time perfecting your skills in both subjects. Along with lectures and reading lists that familiarize you with the theories involved, you will also become more confident in lab work as the course progresses.
When it comes to specialties, you will have plenty of topics to consider. You may already have an idea of what direction you want to take, or you may feel inspired by your work during your studies. Either way, you can choose between a broad range of fields such as healthcare, energy, communication, robotics and software.
In conjunction with your specialty, you will develop skills in general subjects. These could be geared toward enhancing your abilities in programming, analysis, design and research. In order to have a successful career in technology or electronics, you will need a broad understanding of these related topics. It can seem like a heavy workload, but the additional knowledge will form you into a great all-arounder.
Anyone who has worked in an engineering role or has read about the work of engineers will know that finding solutions and problem-solving are a major part of the job. To prepare you for these challenges, you are likely to be given theoretical and practical tests by your instructors. From running simulations of possible events to trying your hand at managing an emulated real-life scenario and creating complex circuits, no two days will ever be the same. Additionally, your lab and classroom work will likely include essay writing, group work, lectures and seminars.
Real-world settings that are improved by electrical computer engineers
The science of electricity is constantly evolving and progressing, bringing the world more advanced technology and improving our quality of life. If you are hoping to qualify and become part of this exciting industry, your skills will always be in high demand. Here's a look at where your master's degree could take you.
How electrical computer engineering aids the construction industry
Computer-aided design, or CAD to those who work in the field, has long been an essential component of the construction industry. This remains true, but the importance of electrical computing has grown. Primarily, experts work on designing electrical systems, which may encompass generators, wiring and lighting. On-site, ECE professionals help manage any aspect of the project that involves electrical know-how. This will include giving workers guidance, ensuring activities are completed safely and providing advice as required.
If an electrical issue arises, electrical engineers step in to get it corrected in a timely fashion and for a reasonable cost. Electrical engineers also check the work that has been done according to their designs, ensuring the system is functioning properly and is compliant with safety regulations. Their presence on site means problems are unlikely to escalate and delays are minimized.
Improving outcomes in a medical setting
Another key industry where electrical engineers have made huge advances is medicine. Changes and improvements are made to healthcare facilities all the time, and this is often achieved through the equipment that doctors and nurses use. In the early days, designing generators and electricity supplies that kept hospitals and clinics operating during power failures was essential. Then and now, electrical engineers constantly strive to modernize the field of medicine.
Since the first portable pacemaker became available in 1958, pioneering technologies have continued to save and improve lives. In the 1980s, their work in transplants kept more people mobile, while in the 1990s, drug release systems made life easier for seriously ill patients.
Now, ECE graduates are involved in improving the software used in medical settings, from micro-sensors to more efficient workstations and better connectivity for vital sign monitors. Their ongoing work might involve designing highly complex implants to boost brain function, continued research on artificial hearts and building nanobots to protect patients of the future from pathogens.
Keeping the world connected
A degree in electrical engineering and technology will ensure you are an expert at the systems we use to keep us connected. You'll be ready to deliver your best ideas when it comes to signal processing, engineering management and control systems. Consumers are increasingly eager to integrate technology into their homes and lives, so electric engineers continue to research smartphones, digital media and networking.
Coupled with these advances, professionals in this field also develop products and software for wearables. This practical technology connects our devices to data processing and to us, so it's easier to keep track of our activities and record information in real time. The market for these devices is growing quickly, so graduates will find many positions in companies making wearables targeted at consumers.
However, as the product ranges grow, they will also be required by the medical industry, the military and agriculture. Now and for the foreseeable future, electrical engineers will be the ones at the forefront of change in tech, with innovations designed to meet the needs of industry and consumers.
Making our homes smarter
Many American homes are already using smart products, and in the coming years, digital technologies will combine with services and goods to enhance the consumer experience even further. From lights to air conditioning and TVs, connected devices that form part of the Internet of Things will be even more adaptive to our individual needs, thanks in part to the work of electrical computer engineers.
In addition to being more energy-efficient, smart home devices are also convenient and offer greater control at the touch of a button. ECEs will work on the software and codes that program these devices, ensuring that communication between them and the user becomes faster and more accurate.
The demand for electrical engineering graduates is always increasing
Electrical engineering graduates continue to be in high demand around the world. The reason is simple: technology has become an intrinsic part of our lives, and it is becoming increasingly difficult to function without it. Moreover, to get a project off the ground in almost any industry, smartphones and computers are essential, so along with our home lives, our professional lives would be in chaos without power.
Furthermore, electric cars are taking over from cars that use fossil fuels, and sustainable energy is increasingly seen as a preferable option. People seek out greener options and try to avoid consumables that are harmful to the environment. Therefore, as businesses bid to deliver the type of eco-friendly products and services their customers want, electrical engineers will be needed.
It's not all about working for big businesses, however. Electricity is a universal resource that is used almost everywhere. If you prefer to work with aid organizations in developing countries, you could find yourself designing sturdier, smaller and more reliable circuit boards to keep a remote community powered up and connected.
How will ECE graduates affect global change?
While studying for a master's in electrical computer engineering, your instructors will train you to be a tech leader of the future. In addition to giving you a comprehensive education in the subject, they will teach you how to think outside of the box. When you graduate, this should give you the confidence to challenge current industry practices and dare to consider more innovative solutions.
From consumer technology to the growth in digital communications and media, there will be a huge focus on IT in the coming years. Today's students might concentrate on computer networking, software design or embedded systems. Furthermore, future electrical engineers will be called upon to improve both public and private transport with more efficient, safer and accessible automated cars and buses.
Working internationally, some will supply ideas for generating, storing and distributing energy from sustainable sources. This is an issue that cannot be tackled by one company or country alone, so graduates will use their communication and negotiating skills to find workable global solutions.
Distribution networks for electricity have been around for a while, but in the coming years, electrical computing experts will be needed for upgrading to smart grids. These advanced networks are enhanced with IT, giving them the potential to be more reliable, efficient and robust.
Another frontier project that relies on EC professionals is Industry 4.0, which is a combination of technologies including analytics, machine learning and the Internet of Things. Using additional sensors, robotics and specialist software, this application is designed to streamline both manufacturing and distribution.
Is a master's in electrical engineering or computing right for you?
Electrical engineers have completely changed our lives over the last century, bringing us wireless connectivity, virtual reality and even the humble, yet essential, light bulb. For students and professionals alike, advanced degrees offer a wealth of opportunities.
If you'd like to be part of the next wave of brilliant technological minds, a master's degree could give you the best possible head start. In addition to improving your aptitude in science and math, you will be encouraged to nurture your creative flair. Wherever you are on the career ladder, an academic qualification will ensure your natural ingenuity can flourish and allow you to stand out among other job seekers.