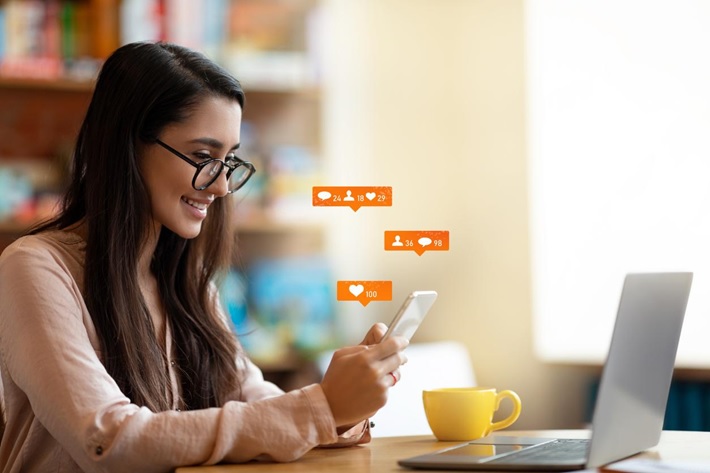 Over half the population of the planet now regularly engage with some form of social media. 4.62 billion individuals, or 58.4% of the global population, spend time on platforms such as Facebook, Instagram and Twitter. On average, we dedicate nearly two and a half hours of every day to scrolling through our feeds, responding to posts, or chatting online on social media websites.
According to the DataReportal January 2022 Global Overview, 2021 saw 424 million new social media users, meaning that engagement is still growing. In addition, the average user accesses 7.5 different platforms per month. 93.4% of all internet users are also on social media.
Into the metaverse
Lockdowns around the world naturally saw a huge increase in digital and online activities. However, since the world began to come out of the pandemic, the trend towards greater social media use has continued to grow. With Facebook announcing its plans to integrate various digital platforms and services into a game-changing new paradigm that it's calling the metaverse, it looks like social media is going to be even more ubiquitous in the future.
This means, of course, that all social media platforms are going to be an increasingly essential marketing arena for private businesses and public services alike. Social media is where they will discover tomorrow's clients and customers, where the battle for their attention and income will take place, and where a loyal and unique community can be built around existing brand users.
Fiercely competitive
Careers in social media are therefore increasingly viable and increasingly coveted. As more job opportunities open up, employers are deluged with applicants almost immediately. It's a growing field, but the competition is already fierce, and likely to grow fiercer.
Social media marketing is a job with a future, and one that allows you to put both your technical skills and your creative imagination to good use, potentially making positive changes to the world we live in. With impressive salaries, flexible working conditions, and an interesting and varied daily routine, it's unsurprising that so many people want to get started on a social media marketing career.
What you need to know
First of all, it's important to know exactly what the job involves. You'll be working for a larger company, creating and delivering marketing strategies on one or more social media platforms.
This is different from a general marketing role, just as it is distinct from the position of a social media manager. While the latter oversees a brand's wider social media presence, you'll be focusing on specific marketing campaigns intended to drive revenue and engagement. A social media marketer is target-oriented, able to analyze data to measure success, and is always hyper-aware of the bottom line.
In this role, you'll create and schedule posts, but only as part of a broader, carefully controlled marketing campaign. This will have a definite target audience in mind and will ultimately focus on getting that audience to buy the company's product, sign up to its services, or otherwise complete the marketing journey you are sending them on.
Different platforms
If you're thinking of going into social media marketing, then a thorough knowledge of the different social media platforms is, of course, essential. You'll need to be someone who is active on social media anyway, and who loves engaging with the world through this medium. Understanding the strengths and weaknesses of different sites, and what differentiates one from the other, is also important.
You should have a clear grasp of how different demographics favor different platforms, and why this is the case. This will enable you to reach your target audience more directly without wasting your efforts on a platform they are unlikely to use. You'll also be able to tailor your format to the platform in question, depending on whether the site is primarily text-based, visual, or a combination of the two.
Suits your preferences
A social media marketing career is a great option for anyone who prefers to work from home. While some companies may still require their social media marketing team to come into the office and work regular hours, a growing number are happy for them to work remotely for at least part of the week. This is ideal if you're trying to balance work with managing a family and homeschooling, if you're a primary caregiver, or if you have disabilities that make working from home advantageous.
This job also suits creative people who are always interested in what's new. You'll be keen to discover the latest trend, but rather than blindly following the bandwagon, you'll want to know what's behind it, why it has suddenly caught on, and where it's likely to go next. You'll be a storyteller, equally at home using words or visual images to bring people on board.
Qualifications
Formal education is important. While the exact requirements can vary from one employer to another, those with degrees in a relevant subject such as marketing or communication will have a significant advantage over those with only a high school diploma. If you already have a bachelor's degree in any subject, then you can study for an online masters in communication, which will greatly improve your chances of success.
This will teach you critical, conceptual and strategic thinking, and the ability to analyze data, create content and communicate professionally across a range of digital platforms. Because the course is taught online, it's easy to fit it in around a full-time job or other responsibilities.
Experience
Besides academic qualifications, you'll also need to have proven hands-on experience in digital marketing. If you haven't worked professionally in this field before, then you should be able to find volunteer work. You could offer to help out with the social media marketing of a local small business or a community organization.
If you have a friend who makes and sells their own products, then you may be able to help them utilize social media to their advantage. This all makes for great work experience and adds to your CV, as well as giving you something to talk about in interviews.
A social media internship can also help you gain valuable experience of working on a campaign from start to finish. Bear in mind, however, that to be considered for an internship, you'll usually need to be either studying for a relevant degree or have just graduated.
Digital natives
Some people are natural communicators on social media. Others start out with enthusiasm and determination and pick up the relevant skills through practice and application. However you get there, to land a job in social media marketing, you need to be 100% at ease and able to use the relevant platforms like a digital native.
While communication skills are essential, they are really only a part of the story. Being able to analyze data and act on the results is just as important. As well as creating posts, you need to be able to deconstruct them after the fact. What worked about them and what didn't? How can you follow up or improve on your performance?
Analysis and insight
You'll need to know how to use tools such as Facebook Insights and Google Analytics, and to be able to create strong, targeted content that is both entertaining and effective, sales-wise. You'll know your target audience inside out: what drives them; their hopes, fears and ambitions; and where their comfort zone is. You'll speak their language; share their sense of humor; and resonate with their social, political and ethical beliefs. However, all of this understanding needs to be put towards connecting them with your company brand and ultimately generating sales.
Curating your personal brand
You can demonstrate your readiness for a career in social media marketing by working on your own social media presence. Look at your Facebook, Twitter, LinkedIn or Instagram profiles as showcases for your work and personality. You should be generating useful and engaging content that generates responses and shares, and that builds your personal brand to a receptive audience.
On some sites, it might be helpful to have a public profile as well as a personal one. That way, you can keep the trivial stuff that's just for friends and family away from the posts that show off your skills and taste. Start thinking of yourself as a social media professional and make sure that your online presence reflects this.
Networking
Once you're sure that your personal profile presents you to your best advantage, start connecting on social media with the kinds of people who can help your career. These needn't be limited to potential employers. Influencers, experts and other social media professionals are all worth getting to know virtually. When a company that you're hoping to work for checks out your profile, it will take note of who you're connected to, so make sure that this works in your favor.
Connect to people who can give you tips and advice on how to improve your social media, marketing and communication skills. Sometimes they might share useful articles and information on their pages for free, as a way of building up their own personal brand and positioning themselves as an expert in their field. In other cases, don't be afraid to ask.
As you grow in confidence and knowledge, try to share the lessons you've learned with your followers in a similar way. Not only does this show that you know your stuff, but it also demonstrates generosity and a commitment to giving something back to your community.
Social media marketing as a new career
If you're already in the workplace, then you might be wondering if it's possible to naturally transition to a career in social media marketing. The good news is that all kinds of jobs can make a suitable springboard for a social media marketing role. Employers often prefer experienced candidates who have shown that they can work hard and hold down a position, even if it's in a different sector entirely.
If you already have some experience of marketing, or of working in a communications-based role, then you have a clear advantage. Traditional marketers may see social media as an exciting new frontier where they can extend their existing skills.
Moving on up
Similarly, you may have a background in content creation or digital communication but want to move into a more marketing-based position. This is entirely possible. Online courses such as those mentioned previously can help you to brush up on your skills and learn the necessary new techniques.
Other jobs that can make a good basis for going into social media marketing include those in broadcasting, print media, digital technology, event promotion, scriptwriting, journalism and even teaching. All involve communicating, getting a message across and swaying hearts and minds, which at the end of the day is what social media marketing is all about.
What if I have no previous relevant experience?
If you want to go into social media marketing but have been working in a job that is completely unconnected to the field, then all is not lost. You can learn the skills you need and even study for the relevant qualifications in your spare time. By volunteering, working on your personal brand, and doing plenty of thorough background research, you can demonstrate your aptitude and build up a portfolio to show to any potential employer.
The great thing about social media is that it is accessible to everyone. This doesn't mean that everyone understands it or can use it well enough to be a social media marketer. However, for those with the enthusiasm, diligence and discipline to apply themselves, it's possible to start building up your skills and knowledge from scratch.
The best approach is to work on social media in your own time while studying for a communication or marketing qualification that can be taken online or in-person, depending on what is right for you. Within a short space of time, you'll have as good a chance of getting a social media marketing job as anyone.
Technical skills
It's not essential to have technical skills – for instance, in computer programming or software design – but there's no doubt that such knowledge will count in your favor when applying for a position as a social media marketer. It's recommended to learn some basic coding and to understand HTML language. Although your job is unlikely to involve coding as such, it's useful to know in case there's a problem. Even though the processes you'll use will most likely be completely automated, having a basic grasp of how programming works will make it less likely that you'll make a technical error.
Going freelance
Career opportunities as a social media marketer aren't limited to just working for a big company. You can also go freelance as a self-employed marketing expert specializing in social media and the digital sphere. This could involve setting up your own agency or simply operating as a potential external advisor for those businesses that don't have an in-house team.
Although this is in many ways a harder route to take, especially at first when you have to generate your own business, it can be extremely rewarding and fulfilling. This is an appropriate path for anyone who has ever dreamt of being their own boss and has ambitions to build up their own social media marketing business.
Your marketing and media skills will also help you generate leads, sell yourself, and turn interest into opportunities. However, many social media marketers prefer to work for a bigger company first while they gain experience, build a portfolio and make invaluable contacts. They may then choose to strike out on their own.
Summary
Social media is a rapidly growing arena, with over half the global population regularly using it.
All kinds of businesses and services are recognizing the advantages of having a dedicated social media team, but competition among applicants is fierce.
Social media marketing involves creating and delivering content as part of an overall marketing campaign on one or more social media platforms.
You'll need to be active on social media and have a deep understanding of how the different platforms work, as well as what demographics they appeal to.
You'll be the sort of person who likes to keep up with new trends and wants to know what drives them.
Social media marketing jobs can be flexible and there are many opportunities to work from home.
A relevant bachelor's degree or master's in marketing or communication is preferred. These can be obtained online.
Essential work experience in social media marketing can be gained through volunteering or community work.
You'll need to be as capable at analyzing data as you are at communicating.
Curating your personal social media brand and networking online are vital if you want to get ahead.
People from a diverse range of backgrounds can forge careers in social media marketing if they apply themselves.
Technical skills are preferred but not essential.
Setting up your own marketing business is an option, though many prefer to work for an established company first.
With this information, you should be ready to take your first step into the exciting world of social media marketing.