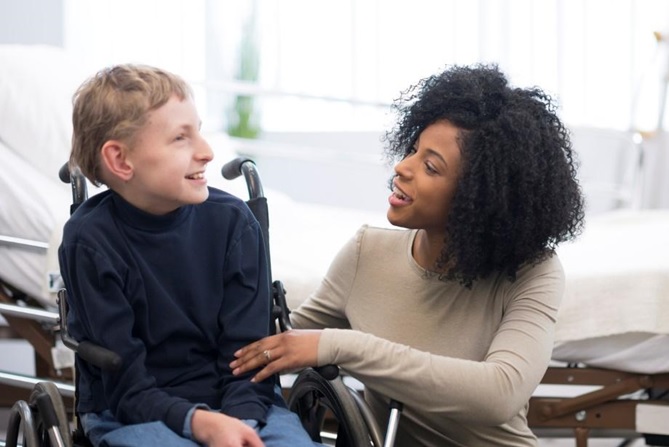 A job in social work will bring you a rewarding career in which you will be helping members of the community in all sorts of ways. It can encompass many different roles and pathways, so before you commit to studying, it's important to think about what direction appeals to you most.
Social workers assist individuals, families, and communities to deal with difficult and stressful issues. You could be helping a child with behavioral disorders, a victim of domestic abuse, or people dealing with the effects of poverty, and you will be providing care and advocacy in some way for every one of your clients.
Providing a wide spectrum of services to a diverse clientele, you could be offering counseling, assisting someone in accessing hospice care, or helping them find the right financial assistance. Some social workers are employed in office environments, or some, such as those who work within the school system, may travel between facilities within a region or district.
Individual and family services ranks highly among the industries that employ social workers, and according to the Council on Social Work Education (CSWE), 31.1% of graduates have jobs at non-profit organizations, with just over 25% holding positions on outpatient healthcare services and inpatient hospitals.
Job prospects
According to the Bureau of Labor Statistics, positions in social work will have grown by 16% from 2016 to 2026, partly due to a growing population. There are opportunities for those with the right qualifications to work within schools, help people combat substance abuse, and get involved with geriatric social work. You could be working in places such as hospitals, hospices, correctional facilities and rehabilitation centers.
Approximately 78,300 openings for social workers are projected each year, on average, over those 10 years, with many of the opportunities projected to result from the need to replace workers who have retired or changed career.
Specific roles
The words 'social work' can mean all sorts of tasks in a variety of settings, both big and small, so thinking ahead when you are embarking on your studies will help you to focus on what you need to do to find the area best suited to your skills and requirements.
For instance, if you decide to work in a community mental health center, you would usually be working as part of a team of psychologists, therapists, and other social workers to help clients with day-to-day living, and provide assistance in finding housing, employment and other issues.
Working within a nursing home could involve advocating for clients' wellbeing, and supporting them and their families in making financial, medical and emotional decisions. A social worker in a hospital environment may be assisting patients in navigating the practical and emotional implications of an illness and would support them and their families as a point of communication with the doctors.
If you decided to work for a non-profit organization, you could be a child protective services caseworker who works for a government agency, ensuring that children referred to them are safe, or you could be a substance-abuse counselor, helping individuals with strategies to help them recover from their addiction.
Qualifications
If you have a bachelor's degree in any area, you qualify to pursue an online Master of Social Work (MSW). The Spalding online MSW program will prepare you for a variety of roles in social services and is accredited by the CSWE. You will be able to choose between full-time or part-time study, enjoy a free placement service to help secure work experience, and study an inclusive curriculum that will integrate current and historical social challenges.
The field placement service will enable you to benefit from hands-on experience, and your coordinator will help identify the right opportunities for you so that you can gain experience from the knowledge gained within the working environment as well as the requirements of your coursework.
Social workers must also complete credits throughout their careers in order to renew their state social work license, so once you have made the decision take this path, you will be committing to learning throughout your working life. It is important to keep on top of what you need, and what's going on in the world of education as a whole.
Talk to a careers advisor in order to gain some focus on a particular area or gaining experience within your chosen field, if you have one, this will enable you to make the most out of your degree and your career as a social worker right from the beginning so that you can get the right job when you graduate.