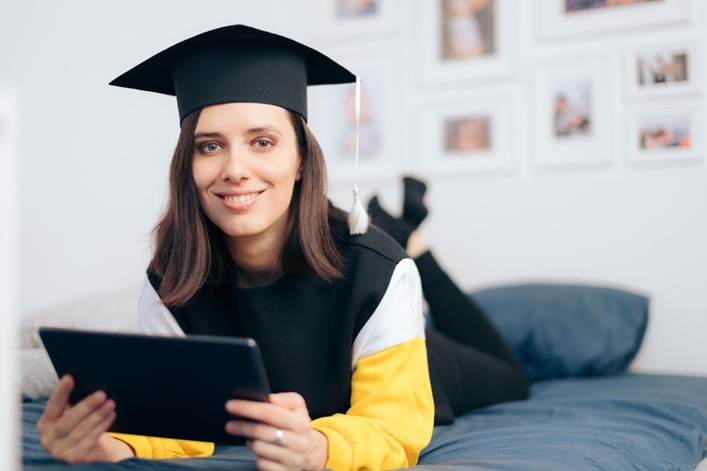 Did you miss out on the opportunity to go to college when you were young? Did you make a mistake with your choice of course and end up stuck in a career that isn't really right for you? Lots of people have stories like this. Life comes at us fast when we're young, and it's easy to get overwhelmed. The good news is that it's never too late to turn that around – and online courses make it easier than ever to get a fresh start.
Here is a look at the way that online education is breaking down the barriers that used to prevent people from getting a second chance. Whether it's a shortage of money, the pressure of time, or the boss breathing down your neck, the problems of the past are much easier to overcome today. More and more people are getting back into education in adulthood and taking control of their lives as never before – and you could be among them.
Back to basics
A lot of people struggle to get where they want in life because somewhere along the way, they failed a subject at the most basic level. It could be due to an undiagnosed learning disorder like dyslexia or dyscalculia, or it could simply be that there was too much else going on during your high school years for you to get to grips with it. Whatever the reason, this can make it difficult to progress to college or to build the career you really want, even if you excelled in other areas.
Filling in this kind of educational gap in adulthood can be awkward. Many people feel embarrassed about it, perhaps because they don't realize how common it is. Thankfully, online courses make it simple and easy for you to catch up. They start from the most basic level, and many offer both instructor support and peer-to-peer support. They will put you on a level footing with others and give you the chance to make something of your life.
Explore your interests
If you're simply unhappy with your life as it is, but you don't know what else you'd like to do or what you'd be good at, online courses present the perfect opportunity to explore. You can take basic courses in lots of different subjects for free or at a very low cost, and even if you don't do very well or you end up taking your learning in a different direction, they will help you to build up your study skills. You'll have a better understanding of how online learning works, what is expected of you and how to manage your time.
When you're at this stage, there's really no need to stick to subjects that offer an obvious route into a good job. If you find that you're passionate about a subject or that you can connect with it really well and get good grades, you can go from there to looking at possible career options. Course instructors can often offer useful career advice, and an initially unlikely choice might lead to something that is both exciting and practical. If you choose to do it yourself as an entrepreneur, no GMAT MBA programs are a great option for helping you turn an interest into a viable career.
Prepare for a sideways career move
If you want to move into a new career, you won't necessarily have to start from the bottom. Many of your job skills could easily be transferred. Management, administration, and report writing have a lot in common regardless of the field. This means that following the traditional path into that type of career could be a waste of time that would be far more productively used filling in gaps in your education so you can make a sideways career move.
The flexibility of online courses makes them ideal for this. Because they can be run on a larger scale, there's no need for the institutions organizing them to have all their students do everything in the same order. With help from a tutor or career adviser, you will be able to pick the modules that will be most useful to you and build up credits until you have enough for a degree. If you do your research, you can also prioritize courses that you know will attract the attention of the specific employers you'd like to target in your job search.
Fit study around work
If you're planning to change careers, you probably don't want to give up your current job until you're qualified to get a new one. If you never made it to college, there's a good chance that you're working all hours just to make ends meet. One of the great things about online courses is that they're much more flexible than traditional learning, so you can fit them around your work even if that means cramming study into your lunch hour or commute, even if you work an odd shift pattern. Most online courses offer completely flexible hours, and although some elements may require you to work together with other students, there are usually several different dates and times to choose from when this happens.
If you want to study so that you can move into a different role with your current employer and turn a dead-end job into a real career, you may find that your boss is willing to help and will give you time off or even contribute financially to help you succeed. In this situation, your boss or senior staff members may also be able to share their knowledge and help you with parts of the course you find difficult.
Fit studies around domestic responsibilities
For many people, what brings education to an end is having kids. Because the population is getting older, more and more people also find themselves caring for elderly relatives; looking after family members with disabilities can also take up a lot of time. On top of this, if you're in a relationship with someone who is earning more than you, you may be expected to do the bulk of the housework. Responsibilities like these can easily become overwhelming and make it seem impossible to build any kind of future for yourself. They can make you feel trapped and put pressure on everyone involved, damaging relationships in the process.
Online study has proven to be a real gamechanger for people in situations like this. Not only is it flexible, but unlike most traditional correspondence courses, it usually offers the option of learning by watching videos or listening to experts. These are things you can do while you're cleaning or doing the dishes. You may even find that family members, including children, want to get involved and end up learning, too. You can set a really good example for children when they see you studying at home.
Study discreetly
If you're hoping that your studies will enable you to leave your current job and get a better one, you may not want your employer to know about it. Some people also find themselves in situations where they would rather keep their studies a secret from family members, such as partners who don't like the idea of them becoming independent. When you take an online course, all you need is your laptop or phone, so it's easy to keep it to yourself. Course texts are also usually offered online or can be purchased as eBooks. You can do your studying wherever you like. This means that your learning is your business alone.
Studying like this is a great option if you feel uncertain about your ability and you don't want other people putting pressure on you. You can wait until you've found your feet before letting family and friends know about it – or surprise them with the announcement that you've earned a new degree and are about to embark on an exciting new career.
Keep costs manageable
Most people who miss out on college have to get by with comparatively low incomes. It's one thing to scrape by on the breadline when you're young, but later in life, you're likely to have far more responsibilities, and it's difficult to set aside a lot of money for studies if you also have to think about feeding and clothing kids, keeping a roof over the family's heads and making sure that everybody else gets a chance to pursue their ambitions. Thankfully, online courses are much more affordable than traditional ones. Plus, you'll be spared the cost of commuting, so you'll find it much easier to manage.
Saving money on your course means that you'll also be able to make other investments that might be important to your new career, such as buying new clothes, joining professional associations or attending events where you can meet influential people.
Build your confidence
If you've never had a college education and you're used to being told what to do by people who have, or if you've been stuck for a long time in a role that makes you miserable, it's hard to feel good about yourself. Attending night classes can be intimidating, and you might worry that you won't be able to achieve much. With online courses, however, you can go at your own pace and gradually find out what works and what doesn't. The key is to ask for help if you're struggling or try using additional resources listed by your course to approach your subject in a different way. Learning should present challenges – that's how you know you're getting something out of it – but courses are designed to help you overcome them.
Even if you have succeeded in getting a college degree in the past, you'll be surprised by the difference it makes to your confidence to discover that you've still got what it takes. If you've never done well in education before, you'll be amazed by how good it can make you feel, even before you've translated your qualifications into the kind of job you've always wanted.
The growth and improvement in online education in recent years means that we now live in a time when nobody has to be left behind. With patience and hard work, you can achieve things that have the power to change your life. You can say goodbye to just getting by and start doing the things you've always dreamed of. On top of that, there's nothing to stop you from going back for more. If you enjoy it, you can make learning a lifelong experience.