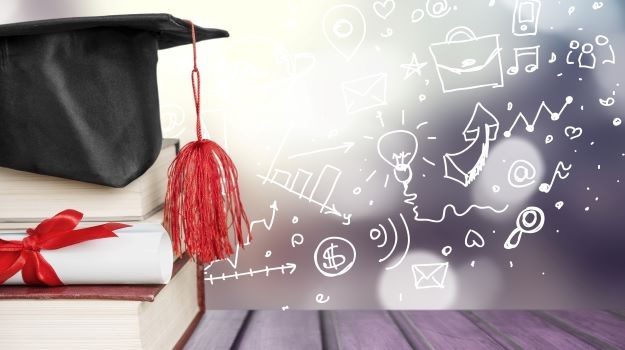 If you've recently graduated from university or are set to finish your degree soon, the idea of getting a master's degree might be something you have considered. Getting a master's degree is a huge decision and chances are, you're going to spend some time questioning what you should study and even what type of master's degree to get. Whether you have a specific career goal in mind or just a general idea of what you would like to eventually do, with so many options to choose from, picking the right master's program for you and your future career aspirations can be daunting. Keep these tips in mind to help you choose the right study option for you.
Reasons to Study for a Master's Degree:
Before you apply to a postgraduate course, it's a wise idea to first spend some time thinking about your reasoning for pursuing a master's degree.
Some common reasons for getting a master's degree include:
To gain more credibility and better employment prospects
To advance in your current field
To prepare to get a Ph.D. or doctorate
To earn a higher salary
To prepare to get a Ph.D. or doctorate
To expand your professional network
To pursue a career in a different field to the one that you studied as an undergraduate
To find college or university teaching opportunities
All of these reasons are great, and definitely worth considering getting a master's degree for. Of course, you might also have a reason that isn't on the list – perhaps you have a very specific career goal in mind that demands a master's qualification, or maybe you simply have a lifelong love of learning and can't imagine not expanding your knowledge further in your chosen subject.
Exploring Alternatives
If you're still on the fence about getting a master's degree – after all, it's a huge investment of both time and money – then it's worth thinking about whether or not there are any alternatives that you could pursue instead. Perhaps a workplace graduate program would help you get your foot on the career ladder that you want to get onto? An industry qualification may be an ideal alternative choice for many professionals working in a wide range of fields including tech finance, business, IT, engineering, and more. It's worth spending some time considering your career goals and weighing up the pros and cons of each route available to get you there, to help you determine if a master's degree is the right choice for you, or whether you'd prefer to do something different.
Choosing a Degree Program
Choosing a master's degree is very individual and personal to you, so think about your career goals, your strengths, weaknesses, likes, and dislikes before you make your decision. Defining your career goals is the first step that you should take, as most master's programs are highly specialized and designed to help you get into a certain career. Based on what you would like to do for work, you can find a master's degree that will provide you with the necessary knowledge, skills, and educational requirements to get there. One of the best ways to do this is to search comparison sites for colleges in the area that you are considering. You can narrow your search results further by geographical location, specific college, entry requirements, type of master's degree, and more. Once you have found some programs that you like the look of, go to the college website to find out more.
The entry requirements will be one of the biggest factors to consider before you decide whether or not to enroll. Depending on your current qualifications and the specific entry requirements for the program that you are interested in, you may need to study further before you will be accepted, which is why it's always a good idea to start your search for master's degree programs early.
Choosing the Right Type of Master's
There are three main different types of master's degrees to choose from. These are the MSc (Master of Science), MA (Master of Arts), and MBA (Master of Business Administration).
Master of Science: These programs typically last one to two years and often require you to complete a scientific thesis. They can be earned in a range of STEM subjects including mathematics, social sciences, human sciences, earth sciences, applied sciences, information technology, and more.
Master of Arts: Again, typically a program that lasts one to two years. Typically, in subject areas that are not scientific, including humanities, arts, media, history, philosophy, and more.
Master of Business Administration: MBA programs are management degrees designed to produce a well-rounded business professional. They offer general and practical knowledge about all the various aspects of a business including HR, finance, operations, and marketing. If you choose to study for an MBA, you can also specialize in certain areas of business.
Where to Study
Once you have figured out what you would like to study as a master's subject and the right type of degree for you, the next step is to determine which college you would like to attend. As a master's student, you have various options, including traditional college where you take classes on-campus, or online programs that you can study from home with more flexibility. There is no difference between the two in terms of quality, and you will graduate with the same qualification whichever way you choose to study it. There are various factors that you should take into consideration before deciding where to study for your master's degree. Many students continue as postgraduate students at the same college where they got their undergraduate degree to take advantage of tuition discounts. You should also consider:
Length of study: Some universities might offer longer or shorter master's courses than others; consider whether you want to study an extra year to gain work experience, or study part-time rather than full-time.
Cost: Consider not only the cost of tuition but also the cost of living at your choice of university. If you need to work part-time to fund your living expenses, will finding a job be easy?
Location: It's also worth giving some thought to the logistical aspect of where you will study. Will you be far from family and friends? Are you ready to study in an unfamiliar area or would you rather stick to where you know?
What to Consider Before Getting Your Master's Online
Today, online masters degree programs such as those from St. Bonaventure University have become more and more widely available. This is often the perfect opportunity for people who may otherwise struggle to get their qualifications due to other commitments. Online master's degree programs tend to be more flexible, cheaper, and offer more control over your time and lifestyle since you can choose how, where and when you want to study rather than committing to a class timetable. If you've decided that an online master's degree program is the best choice for you, consider the following:
School Accreditation: Make sure that you choose a master's program that is offered by an accredited school. You can easily find lists of online colleges that are accredited by various bodies online. Without accreditation, your online master's degree may turn out to be a complete waste of your time and money.
Student Support: Since online students are often located hundreds or even thousands of miles away from the campus itself, it's important to make sure that you are going to get the right amount of virtual support. Before enrolling, make sure that you can trust your college to support you when you need it with both academic and any personal issues that you might encounter during your time as a student.
Online Learning Experience: Another key factor to consider before getting your master's degree online is how much experience the college has in terms of providing online learning. Due to the COVID19 situation, more and more colleges are now offering distance learning programs, but with many new to it, you don't want to end up in a situation where you're struggling to get the education or support that you need due to a lack of experience from the college's side.
Flexibility: Online master's programs can differ in terms of the flexibility that they offer, so be sure that you are aware of how much flexibility you will have before you make a final decision. Some programs are completely flexible with you in charge of when and how often you study as long as you have assignments completed on time and attend any necessary exams. On the other hand, others have a more rigid schedule and may require you to be online and attending virtual classes at set times.
Whether you want to continue learning more about your favorite subject, have a specific career in mind that requires education to this level, or aspire to get involved in research projects and have an impact on your field, a master's degree can be an ideal choice. Today, there are master's degree programs available in every subject, and with online programs now widely available, earning this qualification is even easier.