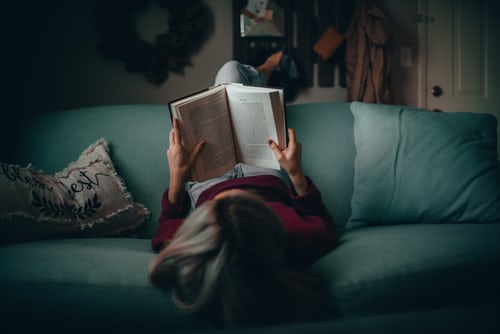 Do you love your paperbacks and hardbacks? Excited to feel the weight of the book in your hands and smell the pages? Me too, dear reader, me too. For years, I was resistant to the new digital landscape that was invading my nerd-girl universe of collecting antique books and beautiful YA series to show off on my bookshelves. How could I enjoy a book without gazing at its gorgeous cover? Could there possibly be any benefits to reading books online?
Around the time of G.R.R. Martin's Song of Ice and Fire frenzy, however, I fully embraced the ebook trend. Why? I'm a bedtime reader. I love climbing into bed amidst the clouds of blankets and pillows and drift off to sleep, book in hand, glasses askew. But if you've read any of G.R.R.M's or Stephen King's mighty tomes, you know that those twenty-pound babies are not the best for bed reading!
Enter my first Kindle. Shockingly, I was hooked. I'll admit I still collected all of the physical copies of the Song of Ice and Fire series (as well as many others), but I have since loved the ease of reading and purchasing ebooks. However, I strike a healthy balance and read ebooks and print books, as there are clear benefits to both.
Before we take a look at the benefits of ebooks, here are some great places to download or read books for free or at a discount online:
Amazon Kindle Store: Amazon has thousands of ebooks, from major bestsellers to self-published authors. Enter "free" in the search bar for free classics and modern books alike. Another plus is you can get the audiobook for a discount when you buy the ebook version.
Project Gutenberg: If you're looking for some good reading online, look no further than the classics on this site. You can download hundreds of classics in various formats, all for free, including audiobooks!
Me: If you're looking for some great modern authors to read, this site has plenty of ebooks to read for free or for a discount, all self-published by the authors themselves. This site sets itself apart by allowing readers to interact with their favorite writers, so you can give feedback as you read, which is invaluable to the writers!
Open Library: This site is an online lending library, with over 1 million titles at your fingertips. Read directly on the site or download titles in a variety of formats.
Internet Archive: Another great site to read or download new titles and classics alike. Some books must be borrowed, so keep in mind there is a waiting list for new titles.
Below are ten great benefits of reading ebooks online if you're still on the fence about whether or not to give in to the digital ebook trend.
Portability. One of the best aspects of reading ebooks online is the fact that you can take your entire library with you wherever you go! No lugging 50 pounds of books on your next vacation. You can read them anywhere too, as most new e-readers are waterproof and are optimized to read outside, even in the sun. Hello, beach reading!
Capacity. One tiny e-reader like a Kindle can hold a staggering 1,400 titles, which means you never run out of something to read.
Language learning. Instant pop-up dictionaries, translators, and read-aloud functions mean anyone reading in a foreign language can benefit from these features while navigating a new language.
Functions.  Ereaders have fantastic functions to help engage you even further, such as highlighting and taking notes without the need for writing utensils. You can also instantly share books and passages with friends on social media, or connect your current ebook to your Goodreads account to let your friends know what you're reading these days.
Accessibility for disabilities. Readers with disabilities or struggling readers can benefit from accessibility functions like reading trackers, font size adjusters, and alternative screen colors for readers with light sensitivities. Kindle can even be used with braille assistive technology and connected to Bluetooth so sight-impaired readers may listen to their books.
Free books. Another benefit of reading books online is there are so many you can read for free! Unless you're gifted print books or you borrow them from a library, it's hard to find print books for free to add to your library.
Environmentally friendly. If you are environmentally minded, ebooks help reduce cutting down trees and also save on emissions since you aren't driving to the store or library.
Ease of purchase. You can get your ebooks instantly, without waiting for them to be shipped. You also don't have to leave home to shop for books, which has been a huge plus during the pandemic.
Saves space. Buying ebooks means you save space on your bookshelves at home (which are probably fit to bursting if you're anything like me), and you'll save space in your everyday bag and travel luggage as well.
 Interactive. Ebooks have many interactive elements to help immerse you in your texts. Ereaders like Kindle boast features such as embedded videos, text, and images, many of which also feature augmented reality. External links can also introduce you to new information to make your reading journey even better.
Author Bio:
Heather R. Parker is a freelance writer, editor, and published poet from Georgia. She works as a writer and editor for the self-publishing platform Fictionate.me. Her work has been published by Nightingale & Sparrow Magazine, Goats Milk Magazine, Analog Submissions Press, Friday Flash Fiction, Medium, and others. Heather lives in Georgia with her husband, son, and a menagerie of pets. In her spare time, you can find her doing yoga, taking long walks in the woods, birdwatching, or picking flowers in sun-dappled meadows. You can follow Heather's writing on Instagram, Facebook ,and Fictionate.Me.