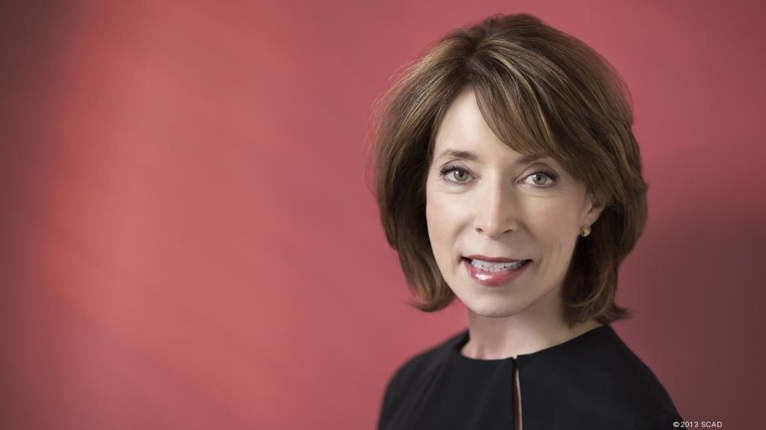 Milan. Paris. New York. These cities are synonymous with and perennial symbols of the fashion world. Today, Paula Wallace, founder and president of SCAD, home to the world's most comprehensive School of Fashion, says Atlanta should be on that list.
As a girl growing up in southwest Atlanta, Wallace says that sewing classes at the Singer Sewing Center downtown gave her an early sense and awareness of fashion.
"In my youth, Peachtree Street wasn't quite Fifth Avenue or London's Bond Street, but Atlantans have always cared about style and appearance," Wallace said. "Nary a weekend passed by without my mother attired in her Sunday best of hat, gloves, and pearls."
Clothes-making was a family tradition for many in the city of Atlanta, including her Grandmother Rinnie. "She handmade my recital dresses, but we also traveled downtown quite often to Rich's, a department store where I ended up modeling for in-store runway shows. We were paid in clothes and shoes. What a thrill!" Wallace said.
She fondly recalled one occasion, when her mother recommended she choose the practical Mary Janes as her reward, but she chose a pair of red velvet slippers with seed pearls. "How to explain that those red velvet shoes helped me float two feet above the sidewalk? Even as a girl, I understood the power of fashion to elevate the human spirit."
In college, Paula Wallace spoke about her summer job working as a bookkeeper at the Continental Insurance Company, when she nurtured a sense of style through window shopping. "I spent many half-hour lunches, and perhaps too much of my income, speedwalking down Peachtree to JP Allen and Regenstein's, where the miniskirt had landed with the weight of a hundred atom bombs. Chanel No. 5 and Shalimar mixed in the strangely cool air with a menagerie of professionals who knew how to dress."
As a summer intern in a stylish and upwardly mobile city, Wallace wanted to look every part of the character she imagined herself to be, somewhere between carefree student and purposeful career woman. "Atlanta schooled me in the aspirational customs of fashion. We have always been a city of doers and dreamers," she said. "We announce our identities in part through a personal assemblage of functional and decorative garments and accessories."
A decade after college, earning undergraduate and graduate degrees in education, Wallace took the lessons of style and fashion with her to Savannah, where she created SCAD in 1978. When SCAD students arrived for their first classes in 1979, they brought cosmopolitan style with them. "These students, from New York and New Delhi and points in between, transformed Savannah almost overnight from sleepy Southern town to sartorial hotspot. Every other student seemingly having stepped out of an Esprit or Benetton ad," she said.
Fashion classes were first offered very early in SCAD's existence, with the later addition of a B.F.A. in fashion in the late 1980s, followed by M.F.A. degrees in fashion and fibers for advanced students.
"By the early 2000s, with Vogue legend André Leon Talley annually presenting his namesake honor to distinguished SCAD guests, including Miuccia Prada and Oscar de la Renta, I found my own style evolving," Wallace said. "To honor our guests, I wore their designs. To honor our students, I listened to their desires, and one of those desires was to study in Atlanta. On academic study trips to the city, our students sensed the same aspirational vibrancy and entrepreneurial bravado that I had felt in my hometown as I grew up."
Originally, Wallace hadn't planned on offering fashion at SCAD Atlanta, but the university's many friends and supporters in the city talked her into it, such as salon legend Carey Carter — of Carter Barnes. "People are starved for fashion in Atlanta," Carter said to Wallace one afternoon. After some additional research and a survey of incoming students, Wallace knew: Atlanta was ready for a preeminent fashion program.
"The 1996 Summer Olympics, a decade earlier, had announced Atlanta as the world's next great city, and the exploding hip-hop scene, with style icons from André 3000 to 2 Chainz,  made fertile ground for fashion," she said. "A healthy style ecosystem requires a vibrant cultural milieu, and when SCAD planted its Midtown flag in 2005, Atlanta was unmistakably ready to expand its reputation."
Today, almost 3,000 students study at SCAD Atlanta, with more than 500 SCAD Atlanta students in the SCAD School of Fashion. Across the university's two campuses in Savannah and Atlanta, as well as eLearning, SCAD enrolls more than 6,000 fashion and fashion-related students.
"This army of designers, including many from Atlanta, go on to work for Alexander Wang, Ralph Lauren, Marc Jacobs, and others around the world, while many more choose to live and create in the South, where designers like Heidi Elnora, Billy Reid, and Alabama Chanin have helped export a distinctly Southern aesthetic to the world," she said. "When I think about these distinctly Southern brands, I think of the personality, detailing, and timeless qualities evident in each collection. These designer's creations have hidden details that only the wearer notices and abundant celebratory spirit — and they use upcycled material."
Wallace said the ethos of design can be found across the city, from haberdashers like Guffey's, Tom Ford, and Sid Mashburn to boutiques like Ann Mashburn, CarolineAnn., Abbey Glass, Draper James, Wish, Peoples, Steven Alan, and Etro.
"What Atlanta needs now is more designers, more ateliers," Wallace said. "We have homegrown talent in abundance, but powerful and alluring design opportunities beckon young SCAD designers to Los Angeles, Barcelona, Milan, and beyond. Atlanta is ready and ripe for a Cambrian explosion of fashion. Ours is a city of youth, diversity, and creative entrepreneurship, with a new generation of doers and dreamers and sophisticated dressers who understand fashion as a wearable commodity capable of being elevated to fine art. The time is now."
Wallace remarked that Jeffrey Atlanta, the epically successful label, has given confidence to many Atlantans that something new in fashion retail can be born here and go on to conquer the world. And now, with SCAD's vibrant presence in Midtown, more and more young designers like Caroline Mae Heidenreich are eager to open their own studios right here in Georgia.
"Success begets success," Wallace said. "This is how trends begin. After studying fashion in Atlanta, multimedia artist Brittany Bosco launched a career as an Atlanta-based recording artist and entrepreneur with her own creative agency, Slug. Tens of thousands of fashion-forward musicians, performers, directors, actors, writers, and artists now call the city home, and now that Georgia is the world's No. 1 region for film and TV production, Atlanta is further poised to shape American style."
According to Wallace, who knows a thing or two about the film industry, too, wherever film is, a tsunami of new fashion is soon to follow.
"Atlantans have always looked good, and our record-shattering entertainment industry, contemporary boutiques and ateliers, and fashion-conscious citizenry are a remarkable sign of the city's rising prominence as a fashion capital," she said. "Whatever the future of American fashion looks like, you can bet it will look a lot like the city we call home: Sharp. Smart. Together."