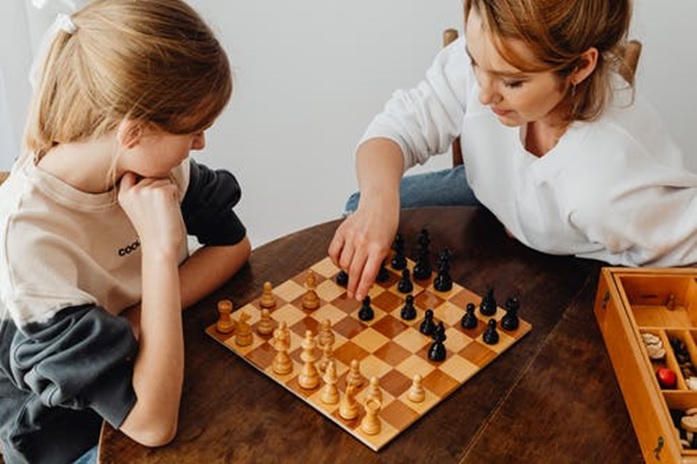 Chess is a board game that requires tactics and strategies to play. You may play chess for recreational purposes or competition purposes. However, most people start out playing chess for recreational purposes before venturing into it as a sport. The role of chess in molding school-going children is immense, whether the students take it as a sport in school or as a way of showing their prowess back at home.
1.    Chess Helps Students Improve Socially
The chess game has evolved a long time, for over 1000years, and has also spread worldwide among different age groups. Chess game makes its players all equal, in that a young school child can enjoy playing against their elder or their younger sibling. The school-going children can freely play chess, interact with the older generation, and learn life skills. Similarly, young chess players can interact with their colleagues as better individuals due to the discipline they acquire through association with the elderly.
Figure 1photo: pexels.com
2.    Chess Teaches Students Need to Watch Their Moves and Decisions
A chess game is a strategy game; you have to take your limited time to think about each move you make on the board.
Chess players know the importance of the King piece; it moves only one step at a time in any direction, and one cannot take it off the board. The King piece strategy helps the students to build a character of not rushing into decisions without thinking about their consequences. The approach creates well-organized individuals that can plan and strategically push for their academic results and life goals.
3.    Chess Teaches Students How to Take Responsibility for Their Results
Chess is a game where a player has to think through every move they make. The players get to learn from their mistakes and accept the results of the game. Additionally, the students will want to come out strong in their next move; they keep learning and growing consistently. Chess players know about touch move; you have to move it if you touch it. Hence from the touch-move lesson, students learn not to make unnecessary moves; it might cost them. This character enables students to accept their school performance results and, at the same time, take responsibility for their results.
4.    Chess Improves Concentration Power and Discipline of School Children
Chess is a game of rules and etiquette; you have to master each move you make till the end. Even if you make excellent moves, a single careless move can make you lose the game. Hence, no matter how good they are, a chess player has to focus till the end of the game. The concentration towards the game, giving the game undivided attention, helps the students develop a character that enables them to set goals and have the discipline to concentrate on their tasks till they accomplish their goals.
5.    Chess Helps Students Develop Creativity and Confidence
Playing chess takes different styles; you can play a reserved game or play an attacking game. The different types allow silent students to express and develop their creativity, which they may not communicate in other settings. Outgoing students can also express their attacking personalities without intimidating the reserved characters. The students display their personalities through their tactics and moves to help them express and develop their creativity and confidence.
6.    Chess Helps Students Make Good Choices and Hence Good Problem Solvers
A chess player is always focusing ahead and solving new challenges with each move. The game involves making the right choice before making a move by assessing the pros and cons of each action. These are essential skills in life and in school that enable students to strategically solve problems that challenge them in life without resulting in violence or escapism.
Conclusion
Most chess players are good thinkers and relaxed, or do we say chess makes its players calm and good thinkers! Schools need to integrate their school programs with chess competition sessions to help their students develop the skills of the game as they develop the innate abilities of life during their school time and beyond. The schools cannot escape the need to integrate chess into their programs; it's a checkmate!