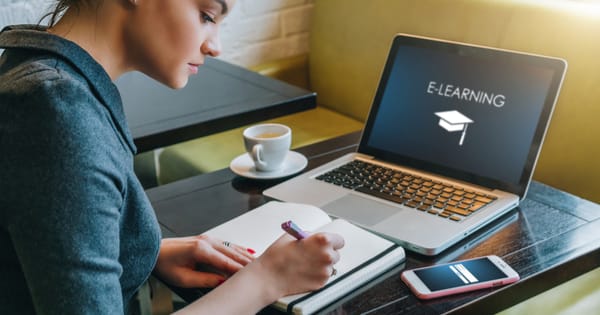 Scholar Yuval Noah Harari wrote in his seminal work 21 Lessons for the 21st Century about how schools focus too much on traditional education frameworks and rote learning. Instead, he argued, we should be teaching the skills needed to survive in a digitized future where much of our work is automated. These skills include critical thinking and adaptability, rather than the ability to remember the dates of the War of the Roses.
This book was released in August 2018, before the world had to continue somehow to turn in the wake of the global pandemic.
Then, of course, COVID-19 did hit, and millions of institutions and billions of students worldwide were forced to move their classrooms online. Around the world, people were suddenly using virtual tutoring, online learning software, video conferencing tools, and learning management systems, all to continue their education.
What started as a slapdash race to keep students from sliding backward became a massive investment in online learning. Nurseries, grade schools, high schools, and universities invested time, money, and training in learning how to use the tools, and they got back digital classrooms that are functioning almost as well as the real thing. As a result, most are reluctant to throw all of that away, even as global restrictions on movement are easing.
Of course, videoing a lecture and sharing PowerPoint slides isn't going to cut it in the new world of online learning. So what is this new era of education look like, and will it incorporate the new skills students will need when they enter the workforce?
Dowson Tong, Senior Executive Vice President of Tencent and President of its Cloud and Smart Industries Group, says that to get the full benefit of online education, universities and other institutions will need to use tools and methods that promote "inclusion, personalization and intelligence" through collaboration and creative student engagement.
Inclusion
Inclusion takes students' diverse needs, learning styles, and resources into account to keep them engaged and learning. It was a challenge to the traditional classroom, which often treated differences as disciplinarian issues, as dealing with students' various needs to distract others. One significant benefit of online learning is that it can easily be structured to meet all students' needs.
Attending to diverse student needs can be done in several ways. First and foremost, online classrooms in the future will need to emphasize active learning, methods that promote engagement and utilize learning techniques that don't simply rely on reading and rote memorization. For example, in addition to videoing lectures and handing out notes, instructors can gamify their courses to stimulate learning through the senses.  "Over a period, we have observed that clever integration of games has demonstrated higher engagement and increased motivation towards learning especially among younger students, making them truly fall in love with learning," said Mrinal Mohit, who works at Indian ed-tech behemoth BYJU's, when discussing the future of online education for the World Economic Forum.
Over in the UK, universities like Coventry University offer flexible timetables that allow students to either attend a live video lecture with a question and answer period at the end or watch the video later. In that way, students can discover what helps them learn better, whether an interactive lesson or a video that can be absorbed at their set speed in a relaxed environment.
Finally, many institutions and learning management systems are trying to incorporate virtual reality (VR) and similar technologies into their systems to stimulate learning in an immersive, student-led environment. A well-built VR environment can allow students to get "hands-on" with a subject, going into depth and even interacting with the material repeatedly until they have fully mastered the lesson. It can also be tailored for different development levels, so students at each level can interact with the lesson in greater or lesser depth, depending on their abilities and education level.
Personalization
Inclusion by its very nature requires a level of personalization, but the online learning of the future will not group students by broad or even niche categories. In the future, each student can get their own tailored package, thanks to adaptive learning, AI, recommendation algorithms, and more.
Adaptive learning, also called adaptive teaching, uses tools like instant feedback and individualized pathways and resources to support a student's learning journey through a particular course or curriculum. This technology can allow the instructor to adapt the course materials for students or rely on algorithms to analyze student performance and automatically adjust the course. It can also use a combination to get a great instructor's empathy and intuitive responsiveness and the computer algorithm's instant response and general accuracy.
Some of this technology will also help instructors and lecturers to build their courses. Talking to The Guardian, Professor John Domingue of Open University's Knowledge Media Institute (KMI) discussed how many ed-tech companies are developing Google-style search engines, Netflix-style algorithmic-based recommendations, and plain old artificial intelligence to help teachers find and collate learning materials for their classes.
Intelligence
Professor Domingue also pointed out how KMI is developing a digital teacher's assistant and other tools to analyze essays before they are graded and set up quizzes automatically, highlighting the final piece of the online education pie: intelligence. Ed-tech experts and teachers worldwide are applying their intelligence and creativity to the challenges of online learning with some fantastic results.
The first step is recognizing that teaching online is fundamentally different from standing in front of a classroom. The challenges in explaining the material, holding students' attention, and addressing personal issues that might affect learning are still there, but the methods for managing them are entirely different. Student-directed, activity-based learning is much more crucial – and in fact, much more accessible – in online education. With quick quizzes, short videos, interactive materials, and even educational games, students can pick and choose how they want to learn, which sets them up for greater understanding and retention. The chat and discussion board features that are ubiquitous in learning management systems can also prove invaluable, increasing student discussions, which deepen understanding.
One primary, obvious concern brought up by online learning is cheating on tests and major classroom assignments. After all, if teachers aren't in the room to ensure that their books are closed, and their phones are down, how can they trust their students are doing genuine work. Luckily, apps like Proctorio address that, too. That particular app is a browser extension that monitors students' online activity and analyzes their facial movements while taking tests so that cheating can be monitored and curtailed. And there are also countless plagiarism-detection programs to prevent students from copying and pasting instead of learning.
There are also online solutions for courses that require practical, face-to-face instruction. Universities and higher education facilities allow students to complete much more prep work at home to spend less time in the actual lab. As a result, schools can stagger the numbers of students in the physical labs or studios that they need to be in. They can continue to learn in a way that mixes their digital education with practical, guided experience.
Conclusion
Online education allows students to learn at their own pace, in a place that they feel truly comfortable, so they can focus on learning and not on the distractions of the classroom. Traditional education allows lecturers to adapt how and what they teach quickly. It will enable students to interact, both physically with the material they are learning and socially with each other. But why should anyone have to choose just one or the other when they can get the benefits of both at once?
In truth, the most likely future of online learning is not that it will replace traditional learning but that the false dichotomy of traditional vs. online education will be broken down. In the future, education will not be conventional or online, timetabled or asynchronous. It will be any imaginable combination or continuum of all of these things, based on a student's individual needs.
And when that happens, we may finally have an education system fit for the Digital Revolution.